History of JDI-SA
In 2004, three corrections officers at South Africa's notorious Pollsmoor prison in Cape Town formed a group called Friends Against Abuse. They were appalled by their prison's high level of sexual violence — and the indifference among many of their fellow staff members toward this abuse. Putting their own careers in jeopardy, they started transferring vulnerable inmates out of the facility's most dangerous units.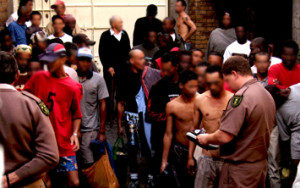 These officers' efforts to stop sexual abuse were nothing short of heroic. But the problems at Pollsmoor were deeply rooted and Friends Against Abuse soon realised that they needed outside help. They tracked down the only organisation in the world dedicated to ending prisoner rape: Just Detention International. Soon after that first contact, JDI came to Pollsmoor prison to train selected staff members, launching what was to become a long-term partnership with South African officials and activists aimed at transforming the nation's prisons.
Since the Pollsmoor training, JDI has emerged as a leader in the fight to stop sexual abuse in South Africa's prisons. In collaboration with local partners, JDI has trained hundreds of corrections officials and prison ombudspersons nationwide, developed a sexual abuse policy framework for the Department of Correctional Services, and pushed for greater legislative oversight of prisons. JDI co-founded a national network of allied organisations — the Detention Justice Forum — to fight for the human rights of prisoners, and worked with South African nonprofit organisations to produce the first-ever public testimonies of South African prisoner rape survivors.
To deepen its work in South Africa and build and learn from local expertise, JDI established JDI-South Africa (JDI-SA) as an independent entity. JDI-SA — which was incorporated in November 2013 — is separate from JDI, but with the same mission: to end sexual abuse in all forms of detention. The JDI-SA team already has strong ties to leading activists and, following JDI's example, relies heavily on the wisdom of survivors of rape in prison.
South Africa's prisons, just like those in the U.S. and many other countries across the world, are rife with sexual violence. First-time inmates, as well as gay and transgender prisoners, are targeted with alarming frequency. The impact of prisoner rape extends far beyond prison walls; upon release, inmates bring all their experiences back to their families and communities. Among prisoner rape survivors, these often include untreated trauma and HIV.
Despite the stark reality facing many South African inmates, JDI considers prisoner rape preventable — in South Africa, in the U.S., and worldwide. That conviction is a founding principle of JDI-SA, and it will always be at the core of its work.
JDI-SA will also continue to work closely with dedicated corrections officials. Prison staff who are human rights champions — like the officers who started Friends Against Abuse — are essential to stopping prisoner rape. As one of Friends Against Abuse's founders, Chris Malgas, put it, "These are human beings we are dealing with. Both the staff and the inmates, they can change. They will change, if we treat them with respect."