Events
The JDI-SA documentary, Tsakani "I Did Not Ask For This" was launched on the 22nd of August at a Symposium by the Detention Justice Forum in Johannesburg. The symposium was titled Rethinking Justice to Create Alternative Global Futures. The event was attended by prominent policy makers, academics, and activists from around the world including Jamaica, New Zealand, South Africa, and the United States. Speaking at the symposium, JDI-SA survivor council member, Tsakani Motshweni called for the full implementation of restorative justice approaches to meaningfully meet the needs of survivors of crime. In addition, speakers spoke of the need to address poverty and inequality, including by removal of relics of colonial laws that continue to target the poor and marginalize black and indigenous populations across the world.
---
Just Detention International-South Africa (JDI-SA) is pleased to launch "Taking Off the Mask", a documentary about Isak Sass and his story of survival and healing following years of sexual abuse in prison.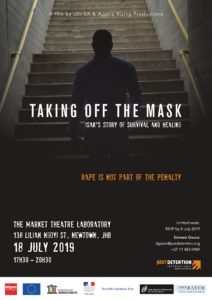 Venue: The Market Theatre Laboratory
137 Lilian Ngoyi St. Newtown, JHB
Time: 1730-2030
Date: 18 July 2019
The screening will be followed by a panel discussion. Panelists include:
– Isak Sass
– Justice Edwin Cameron (Constitutional Court Judge)
– Ottilia Anna Maunganidze (Head of Special Projects, Institute for Security Studies)
– Prof Kopano Ratele (Director, South African Medical Research Council-University of South Africa Violence, Injury and Peace Research Unit)
– Sasha Gear (Co-Director, JDI-SA)
Ms Nokukhanya (Khanya) Mncwabe, Policy Analyst & Human Rights Consultant, will facilitate the proceedings.
To RSVP, contact Doreen Gaura before 8 July at dgaura@justdetention.org or +27 11 483 0989