A Move Toward Safer Prisons in South Africa
After years of JDI-SA pressure, the country's prison system at last is committing to a national policy to end sexual abuse.
When we established a sister organization in Johannesburg — Just Detention International-South Africa (JDI-SA) — the goal was to build upon our long history of successful activism there.
That's exactly what has happened. Since opening its doors in 2011, JDI-SA has trained scores of corrections officials on keeping prisoners safe, published a paradigm-shifting report on violence behind bars, and, with other civil society partners, launched an online storytelling platform to share survivor accounts.
Last month, JDI-SA racked up its most impressive win to date when the Department of Correctional Services (DCS) — which runs South Africa's prisons — finally committed to rolling out a nationwide policy to address prisoner rape.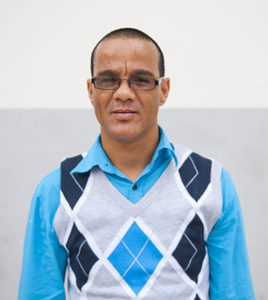 Drafted almost a decade ago by JDI, senior DCS officials, and Sasha Gear — then with the Centre for the Study of Violence and Reconciliation and now JDI-SA's Program Director — the Policy to Address Sexual Abuse in DCS Facilities is rooted in human rights principles and recognizes DCS' duty to protect prisoners. While having a policy won't in itself end prisoner rape, it provides a roadmap for doing so. For example, it calls for quality rape crisis services and increased protections for LGBT prisoners.
Isak knows better than anyone that these safety measures are sorely needed. He was raped over and over again while awaiting trial in a prison in the Western Cape. The staff knew that Isak, who had never been locked up before, was in danger. Yet no one — not even the medical staff — lifted a finger in support.
JDI had survivors like Isak in mind when we first floated the idea of developing a national sexual abuse policy. DCS' top brass was open to it, and worked closely with us on a draft. But when several key officials left DCS, our momentum ground to a halt.
Instead of giving up, we did what committed activists do when confronted with a seemingly intractable challenge. We kept fighting. With our efforts stalled at the national level, JDI-SA embarked on a project to test the policy at one prison: Leeuwkop Correctional Facility, in Johannesburg.
The strategy worked. Using the national policy as a template, JDI-SA is helping to create a sea change at Leeuwkop. Previously, staff lacked a basic awareness of sexual abuse; many felt uncomfortable even discussing it. Now, thanks to JDA-SA's on-site workshops, Leeuwkop has a team of officials who are deeply committed to keeping prisoners safe. They have increased their confidence in talking about sensitive issues — among themselves and with prisoners — and built skills in preventing sexual abuse, and responding when it occurs.
Because of the progress at Leeuwkop, DCS finally felt ready to start implementing the policy nationally — with JDI-SA's help. DCS' embrace of the policy comes too late for Isak. But Isak is celebrating this victory. His priority now is ensuring that no one else ever has to live through that pain. As Isak told JDI-SA, "The greatest tragedy is not what happened to me in prison. The greatest tragedy will be for me and us to fail to stop this from happening to others and to forget about those who are still at risk of violence."